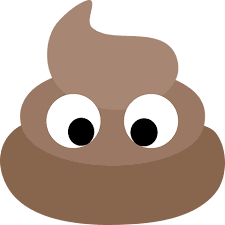 Meconium stained amniotic fluid
If you are reading this, you probably just had (or soon to have) a baby and have heard this term Meconium. So, the aim of this chapter is to detail the reasons and what could happen after delivery with meconium-stained fluid.
Remember, if your baby is already in the newborn unit and did not require any significant intervention, there's no need to worry.
What is meconium-stained amniotic fluid?
The baby grows in the clear amniotic fluid environment in the uterus.
When there's certain distress, mild or not, changes in pH cause dilation of the anal sphincter and the first stool is excreted in the uterus (called 'meconium'). This is what gives the amniotic fluid the greenish brown meconial staining.
This means, that meconium staining is evidence of neonatal distress, no matter the severity.
What is the prevalence of meconial staining of amniotic fluid?
About 10-15% of births, more often in term or post-term babies.
It's important to remember that there's a spectrum. There are mild cases with mild staining of the fluid that is still relatively clear and there are cases of murky fluid with particles.
What might happen to the baby when meconial fluid is seen around birth (for example, during rupture of membranes by the midwife)?
Usually, the midwife will inform the doctor in-charge of the meconial staining.
They will evaluate the possibility of fetal distress and provide appropriate monitoring and treatment.
In many centers, a pediatrician will be asked to attend delivery when there's meconial staining of the amniotic fluid.
Sometimes right after birth the midwife or doctor will suction the meconial fluid from the area of the baby's mouth and nose.
What's the problem with meconial fluid?
Two main problems:
1. The initial reason that the meconium appeared – again, meconium staining may indicate certain neonatal distress. The reason for this distress and how significant it is (or isn't) should be investigated.
2. Meconium aspiration syndrome (MAS) – happened in up to 5% of babies with meconium-stained amniotic fluid, and up to 30% of them, require mechanical ventilation because of this complication. This is a fetus that actually aspirated the meconial fluid into their lungs, which disrupts natural breathing and oxygenation. These babies are usually managed in increased-monitoring units (neonatal intensive care units).
What will happen in the future of a baby with meconium-stained amniotic fluid?
Given that delivery was normal and there's no respiratory distress of any kind after birth, usually the meconium staining bears no significance for the rest of life.
No future difficulty breathing, no asthma, nothing.
In more severe cases that required urgent intervention, the prognosis varies.